Dating
Aanmelden
Cobra Starship - Snakes on a plane (Bring it)
De clip gemaakt in samen werking met bandleden van The Academy is... , Gym Class Heroes en The Sound voor de soundtrack van de film "Snakes on a Plane" link
Fun vids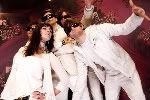 Cobra on MTV overdrive
Read this
At first, I tried whispering: "Gabriel! Gabe Ssssssssaportaaaaaaaa..." Then shouting: "BRO!" But Gabe Saporta is a sound sleeper, especially after partying all night. And he'd raised a particularly raucous ruckus this evening because his band—our band, really—had just celebrated its one-year anniversary by playing to 10,000 screaming Japanese kids. As I watched him sleep, I could sense he was dreaming about worlds unconquered, mountains unclimbed and parties un-Gabed. I knew he was tired and he needed sleep. But I knew I needed action. So I bit him...I bit him right in the fucking neck.
Singles
Sinds hun eerste album maakte Cobra Starship al geweldige SIngles ( VIndt ik dan....) :
Poll
Heeft de medewerking van Patrick Cobra starship goed gedaan?
Acoustic songs
Cool Vids
The Legend
Als je engels kunt.. Dan kun je het lezen :P Cobra Starship, whose band name originates from Gabe Saporta's two "old vintage-style jackets," was formed in 2005. According to legend, Saporta sought out to discover his true purpose and meaning in the desert of Arizona. On one distinct night, a snake - more befittinglyeventual frontman of his mission and point of existence - leading the human race into the end with "style." Even more, he must "[teach] hipsters to not take themselves so seriously and by telling emo kids to stop being pussies." Thus, the legend continued, and Cobra Starship came together in New York City
Cobra Starship Biobigrafie
Cobra Starship is een Amerikaanse band, in het genre rock pop. Deze band begon als een Side project van Gabe Saporta van de band Midtown. Het werd een suc6. Cobra Starship treede op naast band als The Academy is... en Panic! at the disco. hun single voor de film Snakes on a plane, gemaakt samen met band leden van Gym Class Heroes, The Academy is en The sound, was een groot succes in Amerika. Met hun tweede album riepen ze de hulp van de Leadsinger van de band Fall out Boy, Patrick stump, in.
!Viva La Cobra!
het album "!Viva La cobra!" was het tweede album van Cobra Starship deze maakte ze in samen werking met Patrick stump van Fall OUt boy, zijn stem is hierin dus ook te horen. Hierbij hoorde dus ook nieuwe singles en die kwamen er: The City is at war, Guilty pleasure
Gabriel Eduardo Saporta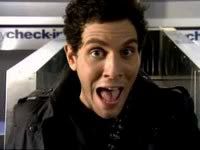 Gabe (Geboren October 11, 1979 in Montevideo, Uruguay) is de leadsinger van Cobra Starship, hij was eerst de Bassist en Singer van de band Midtown. Gabe COol, Gabe Eat pie, Gabe and Patrick, Gabe Brushes teeth, Gabe Bored, Gabe Hot.
Ryland Blackinton
Ryland Blackinton is de gitarist van Cobra Starship. Hij komt uit Wilmington MA, maar was geboren in South Kingston Rhode Island on March 31st. voordat hij bij Cobra ging, zat Ryland samen met Alex zijn vriend van de middlebare school in hun eigen folky/pop bandje: This Is Ivy League. Ryland is best wel gek en Grapig, hij is wel te zien in een paar TAI TV podcasts voor The Academy Is... als 'Guy Ripley', een zelf versonnen journalist voor BBC world News. Als Guy Ripley heeft Ryland een enorme Cruch op Vicky T van Cobra Starship. Guy Ripley steelde een lok van William Beckett's (The Academy is...) hair in episode 39 van TAI. op het nieuwe album van Cobra : !Viva La Cobra!, staat een liedje genaamd "Pleasure Ryland". Zo verteld Ryland in een interview "Pleasure Ryland is an imaginary place in your mind that pretty much anybody can go to, where the drinks are free, and you can always dance with most of your clothes off." Mike Carden maakte een liedje over hem de "Sleeping with Giants Tour" in Orlando, Florida. Ryland speelde ook een co-star in Misplaced Planet's korte zombie film "Brains!"
Victoria Asher
Victoria, oftewel Vicky T, is jarig op 20 januari. Ze is familie van heel wat Bekende mensen: Ze is het nichtje van William Beckett ( The Academy is...) de dochter van Peter Asher ( Producer, manger van band Peter and Gordon) Nichtje van Jane Asher ( Trouwde met Paul McCartney). Vicky zat ooit in een band, die ze zelf had opgericht, genaamd Optimo, maar voegde zich later toe bij Cobra Starship ( Weize Keus)
Alex Suarez
Alex is geboren op 6 april 1982, toen hij jonger was , maakte hij tafel schoon in Mr. Deli's Jewish Delicatessen in Boca Raton, Florida. Hij wilde een carrier in art als in Gitaar spelen in de screamo band Kite Flying Society. Na 7 jaar maakte hij een band genaamd This is Ivy League samen met high-school vriend Ryland ( ook in Cobra Starship). Alex heeft twee huisdieren, een hond genaamd Pancho en een kat genaamd Suarkey.
Nate Navarro
Nate is de drummer van de band. Hij werkte eerst als een drum tech voor de bands "Hidden in Plain View" and "Armor for Sleep" Als ik meer info heb gevonden plak ik dat erbij.. :S